Servicing Your Honor Box Vending Route Like a Pro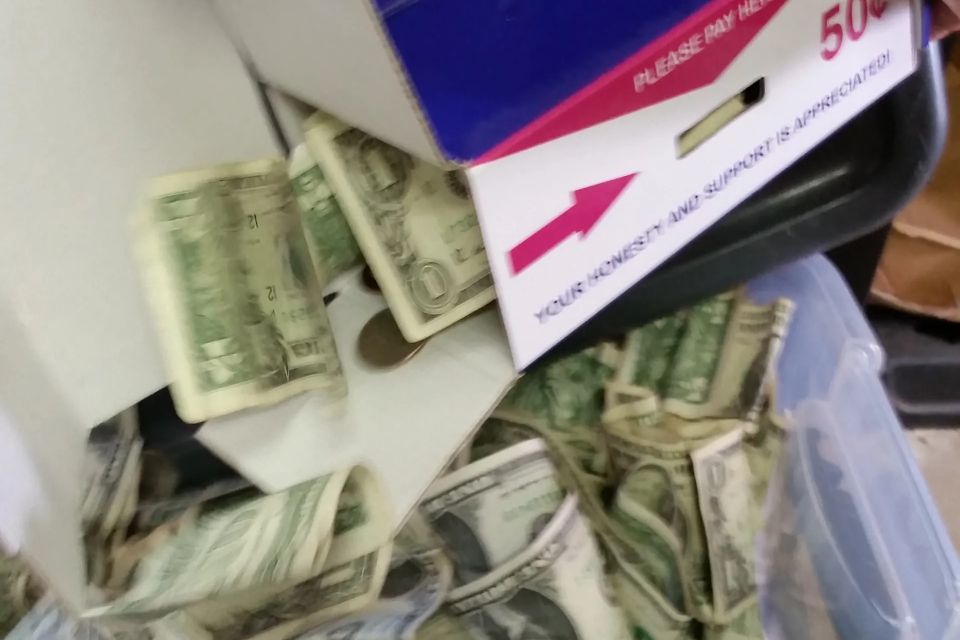 Once your honor boxes are placed in locations, you will need to allow for a bit of time for them to bring in the money. It is a little like fishing; you bait the hook, cast out the line, and reel in the catch. In this case you have loaded up the boxes with candy, set them at the location, and you are now waiting for the right moment to "reel in the catch". When first starting out, it is best to wait approximately one to two weeks to return to the first stop.

Load up your vehicle with as many boxes as possible. Bring a Tupperware/Rubbermaid bucket to dump all of the bills and coins into. Also, bring a trash bag for the trash scraps that you will inevitably encounter while servicing your box. Bring a sharp knife to cut into the piece of tape sealing the entry of the coin box part of the boxes. You will need a roll of packing tape to re-seal your boxes.

An extra trash bag sometimes comes in handy. If it starts to rain, you can cover up the box while you are running in and out of the locations.

Walk into the location with a box that's pre-loaded with candy so that you can "swap" that pre-loaded box for the one that's already been there a while collecting money. It's always best to service that way, so that you are not standing around the location making a scene while opening, refilling the candy and collecting the money. Do all of the money emptying and candy refilling while inside or around your car. This will enable a smooth and quick operation.

Once you are back in your car, take accurate notes so that you are able to service and supply your boxes efficiently. When you have determined that a particular location is a high-volume location, take note so that you can increase the inventory and service the location more frequently. Same goes for a slower location. A pen, yellow highlighter and a clip board with your note pad/locations list fastened to it would come in handy for all of this.

Put the bills in one stack. You can roll up the quarters, dimes, nickels and pennies and put them into paper tubes if you like, but these days all of your coins can be brought straight into the bank. Most banks have a change counting machine available. Credit unions will usually have a change counting machine that you can use at no extra charge if you have an account with them. And you can have it all deposited directly into your account!

Make sure you are sending money to your charity regularly. It is a privilege that you are able to represent them, and it sure feels good to you when you are making your monthly pledge. Keep records so that you are reminded to pay monthly. You should also keep those records for tax purposes.

Helpful Tips:
Try to service your locations in daylight hours. You are dealing with cash, so you will want to play it safe.
Drive carefully, and park carefully.
Prepare as many boxes as possible while at home to minimize the need to load up boxes with candy and lollipops while on the road.
​​​​​​​
Bring a squirt bottle of all-purpose cleaner like, Oxy-Clean, Comet, Spic and Span, Windex, etc. to give your boxes a quick shine.
​​​​​​​
Repair any damaged boxes with cardboard scraps and packing tape.
​​​​​​​
Be polite and courteous to other vending, brochure, magazine, etc. displays. Do not assume that anyone particular competitor did anything to your boxes. Any kind of "retaliation" will come back to haunt you, so don't jump to any conclusions.
​​​​​​​
Try to help keep the area around your box neat, tidy and clean. Throw away any old brochures, trash etc.
​​​​​​​
Reward your location owners and workers as much as possible. Which brings us to…
Another Helpful Tip: Give occasional gifts

Gifts usually encourage workers and store owners to guard over your box. It also increases the likelihood that they will let you leave your candy box in permanently.

Small gifts are all you need to give to any store owner, manager or employee. You can find small, inexpensive gifts at Dollar Stores, Walmart, Target, Staples, Office Depot and other discount stores. We also recommend Amazon.com or Ebay.com for some excellent deals on bulk items. Keep a few on hand and in the car when running your route.

Inexpensive Gift Ideas:
Calculators

Key Chains

Pens

Can Coolers

Promotional Gifts
Act Professional!

Even though vending is generally a laid back, simple job, it is important to act like a true professional. Adhere to a high set of standards. Maintain skill, good judgment, and polite behavior, and you will be greatly rewarded.